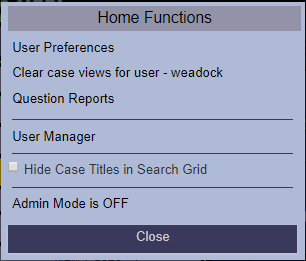 User Preferences
Various user preferences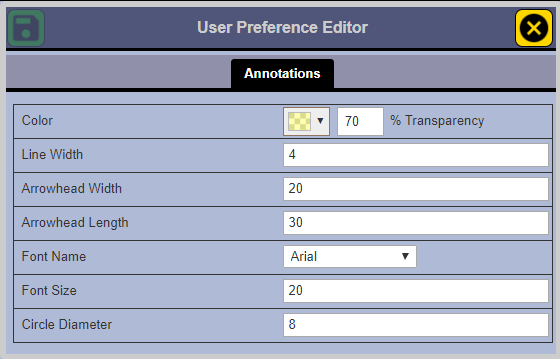 | | |
| --- | --- |
| Color | Color and transparency of annotations. Note: All arrows and text are 0% transparent (opaque) by default. |
| Line Width | Thickness of drawn lines. |
| Arrowhead Width | Arrowhead width |
| Arrowhead Length | Arrowhead length |
| Font Name | Font name by default is Arial. San serif fonts work best. |
| Font Size | Font size. |
| Circle Diameter | Size of control circles when drawing shapes. |

Clear Case view for {username}
Deletes user case access for the logged in user
Question Reports (Admin only)
See question information
Hide Case Titles in Search Grid
Left image – titles are shown
Right image – Titles are removed
Admin mode is OFF (Admin only)
Toggle to show additional administrative functions.
---
---
Admin Mode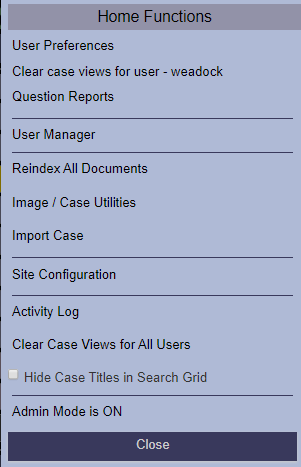 User Manager (Admin only)
Access User Manager to change settings for user.  This includes user password, affiliation, RadPix groups, etc.

Reindex All Documents

Reindex cases. Option to regenerate missing images if needed.

Image / Case Utilities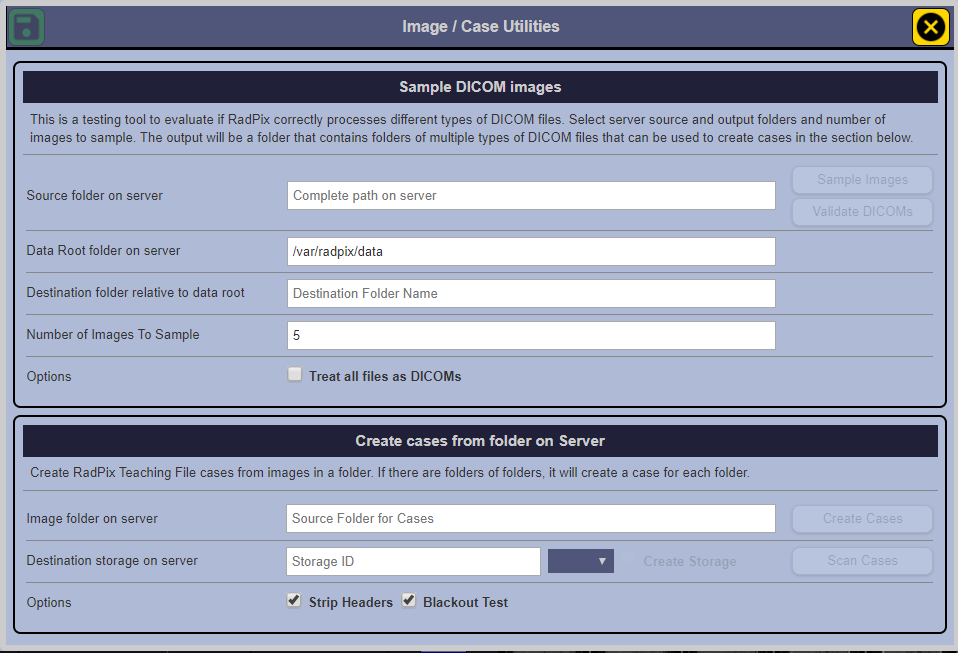 Sample DICOM files

Evaluates all DICOM files in system to determine which if any the system cannot appropriately handle. RadPix support will direct usage of this option if needed. Phantom or anonymized DICOM images can be sent to RadPix for evaluation if needed.
Create Cases from Folder on Server
Enter full path name of folder on server and select Storage ID from drop down menu.

Folders of images can be placed into the source folder. When RadPix is restarted, it processes all files as if they had been sent via a DICOM send. JPG and TIFF files can also be included.
Import Case
RadPix data files in ZIP format can be added by navigating to the folder and uploading. RadPix also supports RSNA MIRC case files.

Site Configuration
Site administrators have access to change a series of functions for the system. Link.
Activity Log
View activity of system by total site, user, case. Click link to see example.