RadPix is a radiological teaching file system which can be integrated into any PACS environment. It allows users to send selected images directly from the PACS to a stand-alone teaching file webserver. Complete radiological teaching files can be created by adding text, annotations and images. Annotations are added using built-in drawing software, designed for radiologists. Images can be exported as JPGs, PowerPoint files, Image Stacks in PowerPoint files and videos. Publication quality TIFF images with annotations are easily created and downloaded. Cases can be grouped into presentations, which then can be shown in a live setting, or used for testing purposes.
Example case viewing video. Click Play to begin.
Users can scroll through stacks of images, change window and level settings, toggle annotations on and off the images, and answer questions.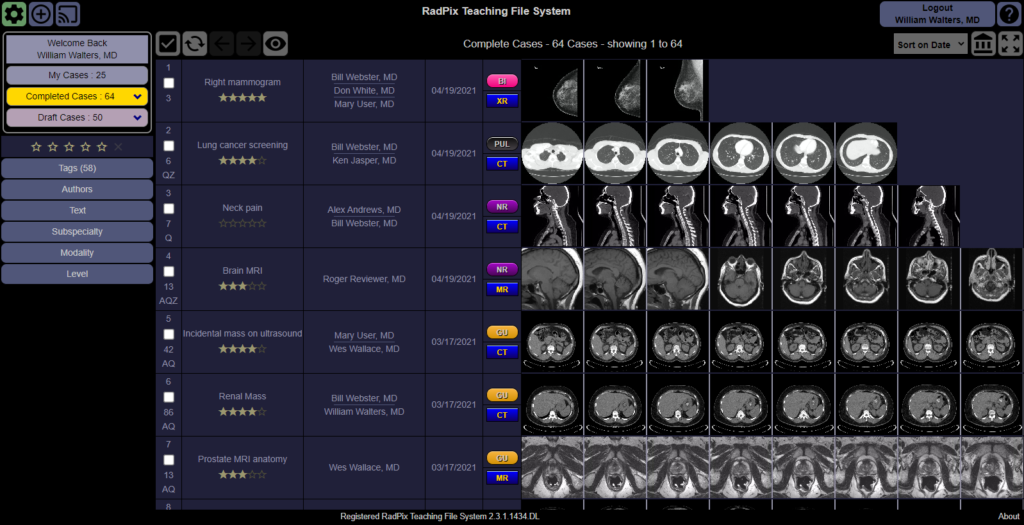 RadPix is software to simplify radiological education.
Getting images from a PACS doesn't need to be a chore! Our complete software solution starts with cases as they are read, and ends with endless educational opportunities.
How about this. While reading a case, select images then send them directly to your personal or institutional teaching file. You can then add text and annotations to the images to create a teaching file. You can also just download the images in a PowerPoint file, including in a special RadPix image stack. All images on 1 slide, with the ability to scroll through them, just like on a PACS! Need some annotated images for a publication? Easy. Export images as TIFF files with annotations.
RadPix Presentations
RadPix an also be used in presentation mode in live presentations. RadPix teaching files are used, allowing presenters and participants to scroll through stacks of images and answer questions. Real time display of participant answers can be used by the presenter to verify understanding of topics. This mode also allows the presenter to seamlessly include PowerPoint files in the presentation. Ask for a demo!
RadPix PACS Integration
RadPix will work seamlessly with any radiology PACS system, including Siemens Healthineers, Sectra, Intelerad, Change Healthcare, Fujifilm, Agfa Healthcare, Philips, IBM Watson Health, GE Healthcare Centricity, INFINITT, McKesson, and Novarad. Just add a new DICOM destination for your RadPix server, send some cases to it, and make some teaching files and conferences. 3D and other workstations such as Siemens syngo.Dynamics and syngo.via, Canon Medical Vitrea, TeraRecon Intuition, GE Advantage Windows and Philips IntelliSpace can also be easily configured to send images to RadPix.
Download RadPix Feature Summary (PDF).
Email info@radpix.com with purchase inquiries.